Explore our catalogue of recipes using Hormel Foods Products. Reward your tastebuds by adding new flavours to your favourite meals. They're quick, easy and delicious!

Rolled Applewood Bacon Club

Gluten Free: No
Serving Size: 8+
Total Time: Under 30 Minutes
Preparation Time: Under 30 Minutes
Preparation Method: Stove-Top
Meal Occasion: Appetizers & Snacks
Level of Difficulty: Beginner

Ingredients
1 12-ounce package Hormel® Black Label® Applewood smoked bacon
1 cup mayonnaise
1 1/2 teaspoons roasted garlic
1 teaspoon lemon juice
6 large flour tortillas
12 leaves Bibb lettuce
12 slices tomato
12 1-ounce slices Swiss cheese
1 8-ounce package Hormel® Natural Choice® Smoked Deli Turkey
1 8-ounce package Hormel® Natural Choice® Smoked Deli Ham
Directions
Cook bacon according to package directions; drain on paper towels.
In bowl, combine mayonnaise, roasted garlic and lemon juice; mix well. Spread mayonnaise mixture over each tortilla, leaving 1/2-inch border.
Top each tortilla evenly with lettuce, tomato, cheese, turkey, ham and bacon. Roll up tortillas tightly; wrap with plastic wrap, enclosing ends. Refrigerate until serving time.
Cut each tortilla roll crosswise into 8 slices to serve. Thread rolled club on skewer with stuffed green olive, if desired.
Hormel Bacon Products Recipes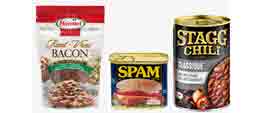 Hormel Foods is proud to offer a variety of flavourful foods to meet your needs and make meal time better.
More Info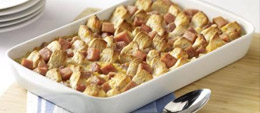 Looking to try something new? Check out our inspiring recipes featuring Hormel Products.
More Info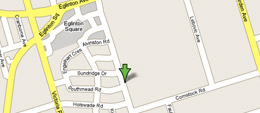 Having trouble finding your favourite Hormel product? Use our product locator.
More Info