Explore our catalogue of recipes using Hormel Foods Products. Reward your tastebuds by adding new flavours to your favourite meals. They're quick, easy and delicious!

Enchilada Breakfast SPAM® Casserole

Serving Size: 8
Total Time: More than 1 Hour
Meal Occasion: Breakfast, Lunch

Ingredients
1 12-ounce can SPAM® Classic, cubed
1/2 cup chopped onion
1/2 cup chopped green bell pepper
1 tomato, chopped
1 1/2 cups shredded Cheddar cheese, divided
8 large flour tortillas
4 large eggs
2 cups whipping cream
1 4.25-ounce diced green chiles
Directions
In center of each tortilla, place about 1/4 cup SPAM® Classic cubes, 1 tablespoon onion, 1 tablespoon bell pepper, 1 tablespoon tomato and 1 tablespoon cheese; roll up tightly.
In greased 13x9-inch baking dish, place tortilla rolls seam-side-down.
In bowl, beat together eggs, cream and chiles; pour over enchiladas. Cover; refrigerate overnight.
Heat oven to 350°F.
Bake casserole 40 to 50 minutes or until egg mixture is set. Sprinkle with remaining 1 cup cheese. Bake 5 minutes longer or until cheese is melted. Serve with picante salsa.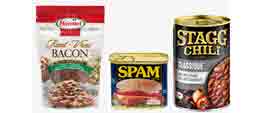 Hormel Foods is proud to offer a variety of flavourful foods to meet your needs and make meal time better.
More Info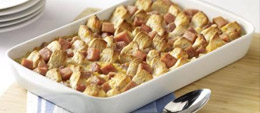 Looking to try something new? Check out our inspiring recipes featuring Hormel Products.
More Info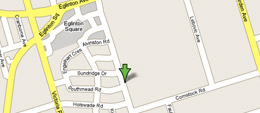 Having trouble finding your favourite Hormel product? Use our product locator.
More Info