Explore our catalogue of recipes using Hormel Foods Products. Reward your tastebuds by adding new flavours to your favourite meals. They're quick, easy and delicious!

Dynamite Hot Seven-Layer Casserole

Gluten Free: Yes
Serving Size: 6
Total Time: 1 Hour
Preparation Time: Under 15 Minutes
Preparation Method: Bake
Meal Occasion: Lunch, Dinner
Level of Difficulty: Beginner

Ingredients
1 cup long-grain white rice
1 cup frozen whole kernel corn, thawed
1 8-ounce can stewed tomatoes, drained
1/2 teaspoon salt
1/4 teaspoon pepper
1 8-ounce cans tomato sauce
3/4 cup water
1/2 cup finely-chopped green onions
1/2 cup chopped green bell pepper
1 15-ounce can STAGG® Dynamite Hot® Chili
Directions
Heat oven to 350°F.
In 2-quart casserole, layer rice, corn and stewed tomatoes; sprinkle with salt and black pepper. Pour 1/2 can tomato sauce and 1/2 cup water over first layer. Top with onions, bell pepper and chili. Pour remaining can tomato sauce and 1/4 cup water over chili. Cover; bake 45 minutes.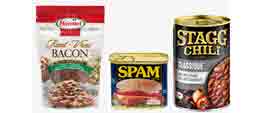 Hormel Foods is proud to offer a variety of flavourful foods to meet your needs and make meal time better.
More Info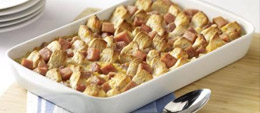 Looking to try something new? Check out our inspiring recipes featuring Hormel Products.
More Info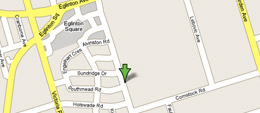 Having trouble finding your favourite Hormel product? Use our product locator.
More Info