Explore our catalogue of recipes using Hormel Foods Products. Reward your tastebuds by adding new flavours to your favourite meals. They're quick, easy and delicious!

Super Loaded Chili Potato Skins

Gluten Free: Yes
Serving Size: 8 Potato Skins
Total Time: 30 Minutes
Meal Occasion: Appetizer
Level of Difficulty: Easy

Ingredients
8 small (3 to 4 inches) russet potatoes
2 (60 mL) tablespoons olive oil
Coarse salt and freshly ground pepper to taste
1 (425 g) can STAGG® Chili
2 cups (250 g) shredded sharp Cheddar cheese
½ cup (115 g) sour cream
½ cup (80 g) sliced green onions or 3 tablespoons (9 g) chopped chives
Directions
Heat oven to 425˚F. Scrub potatoes and dry well. Pierce several times with tip of knife; arrange on large baking sheet. Bake 45 minutes or until tender. Cool.
Slice each potato in half; scoop out flesh (reserve for mashing or potato pancakes), leaving ¼-inch shell. Brush inside and outside of each potato half with oil; season with salt and pepper.
Arrange potato halves on baking sheet. Bake 10 minutes, until crisp and golden brown, turning once.
Spoon chili into potato shells; top with cheese. Bake 3 to 5 minutes or until cheese is melted. Top with sour cream and green onions.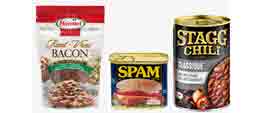 Hormel Foods is proud to offer a variety of flavourful foods to meet your needs and make meal time better.
More Info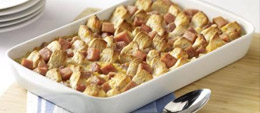 Looking to try something new? Check out our inspiring recipes featuring Hormel Products.
More Info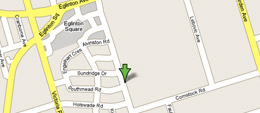 Having trouble finding your favourite Hormel product? Use our product locator.
More Info